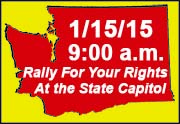 The Gun Owners Action League, today announced that it would join the Washington Arms Collectors, I Love Guns & Coffee,  the Citizens Committee for the Right to Keep and Bear Arms, Jews for the Preservation of Firearms Ownership and the Second Amendment Foundation as sponsors of the January 15th I-594: Rally for Your Rights at 9:00 a.m. at the Capitol in Olympia.
Rally hosts include private individuals and organizations including Protect Our Gun Rights Washington, Pink Pistols, WaGuns.org and the Gun Rights Coalition operating through the umbrella group Washington Firearms Leadership and Advocacy Group.
GOAL has been a major force protecting and restoring Second Amendment rights in Olympia for over twenty years with its dedicated efforts to defeat ill-considered legislation attacking firearms owners and to press for laws recognizing and protecting fundamental firearms rights and an early supporter of efforts opposing the poorly written and deeply misguided I-594. Often fighting uphill battles against anti-gun legislative majorities and governors, GOAL has consistently held its ground or made actual advances in the face of long odds.
Joined on the legislative scene by Protect Our Gun Rights Washington, GOAL will only be more effective with a strong ally by its side.
GOAL's efforts – whether through direct legislative action or through supporting pro-gun candidates – have held the line nearly alone for Washington gun owners rights for decades. Today they are being reinforced with grass roots support, new allies in Olympia and ever more vital relationships on both sides of the aisle.
Join GOAL and your fellow gun owners at the January 15th Rally for Your Rights to hear a wide variety of gun rights viewpoints before visiting your legislator and helping them understand the importance of repealing or amending I-594 and other bad gun laws.
WAFLAG will provide help at the rally to folks unsure of who their legislator is and how best to meet with them. In the meantime, locate your legislator by going to www.app.leg.wa.gov/districtfinder/ or contact the legislative hotline at
1-800-562-6000. Let them know your views!
Be Present. Be Effective. Fight the Fight!